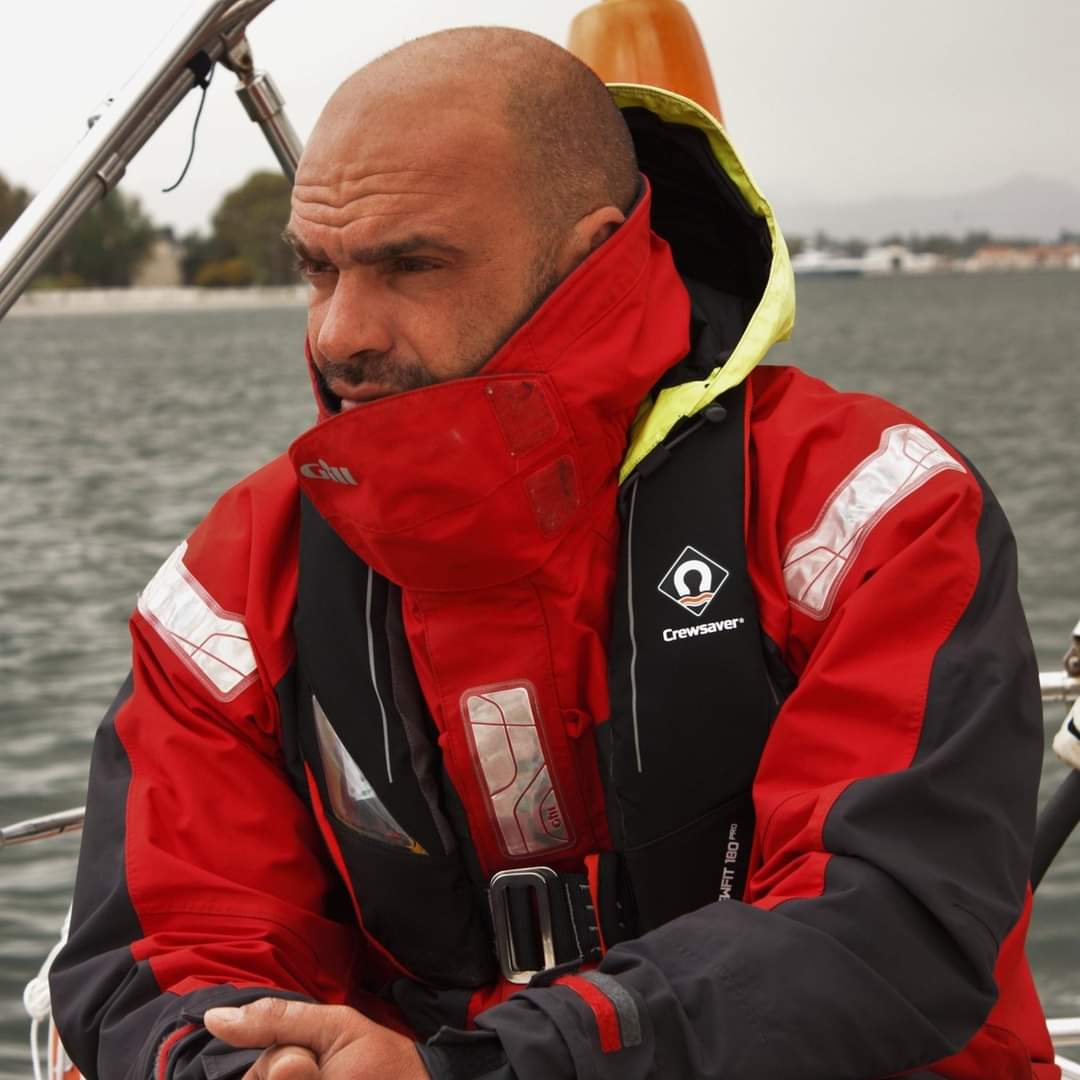 George Nounesis
Principal & Chief Instructor

George has been sailing for more than 20 years and he has more than 80,000 N.M experience written in his logbook. A qualified RYA Yachtmaster instructor and VHF accessor. He has sailed around the Mediterranean and U.K and he has deep knowledge of the area as he grew up sailing in the Ionian. He is always keen to expand his knowledge and improve his skills and teaching techniques. As an RYA instructor, he has taught more than 400 recreational and professional sailors through the RYA syllabus.
Andy Hitchen
RYA Yachtmaster Instructor
Andy has spent the last 10 years working as a skipper and instructor, mostly in the Mediterranean and Caribbean. Although he developed his passion for sailing in the UK, he has spent most of his career travelling the globe and gaining ocean sailing experience along the way. He is also a Shorebased and Practical Courses instructor who has had his summer base in the Ionian for the last 8 years.
Alan Costello
RYA Instructor

Alan is a former UK police officer with 30 years of experience and service. A keen yachtsman, he is passionate about sailing and has raced in multiple regattas both at home and abroad. Alan started in Lefkas 2011, originally as a flotilla skipper, moving on to yacht deliveries and skippered charters. He has been resident in Lefkas for 8 years so has excellent knowledge of the area and local services.
A qualified RYA Cruising Instructor, he also holds an RYA Yachtmaster Offshore certificate with commercial endorsement. He has sailed in Mediterranean, UK, and Caribbean waters and has extensive knowledge of sailing around the Ionian Islands.
Achilles Argyriou
Skipper & Base Crew
Achilles is an integral part of the skipper and base crew. With a deep passion for yachting, he has taken part in numerous regattas and races and his frequent voyages in the Ionian Sea have given him the edge over the unruly waves. With maximum efficiency and expertise, he handles his duties as part of the skipper and base crew. Rest assured, with Achilles on board, there is no fretting over safety or fun in any case!
Nikos Pappas
Managing Director

Nikos is from a seafaring background and has been sailing for most of his life and is responsible for the overview of our business. With extensive sales, marketing, financial and management experience along with vast knowledge and expertise in almost anything related to sea and yachts, his decisiveness and excellent problem solving skills drive his success which aids in the development and advancement of our team.
Lydia Sixpence
Marketing & Communications Manager
Lydia joined our team as the Marketing & Communications Manager and is in the process of finding her sea legs. From advertising, public relations and social media, her attention to detail drives our marketing and communications and her impressive communication and organizational skills assists in the overall success of our team.
Eoannes Lazaridis
Software Engineer

Eoannes is a web developer and information and technology expert. Although he has recently been introduced to the yachting industry, he brings with him an extensive array of computer and technology systems skills. Passionate about his profession and dedicated to assisting our team with all of their IT needs, his experience, love for excellence and wealth of skills in the computer and information technology sector makes him a great asset.