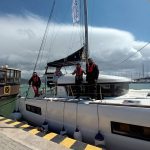 Catamaran Handling
April 9, 2021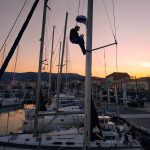 RYA PPR
July 20, 2023
Description
The ICC Preparation & Assessment course (International Certificate Of Competence) for sail is ideal for those who want to improve their skills, expand their knowledge and gain experience in order to be able to skipper a yacht safely with confidence. We will work on yacht handling techniques under sail and power and we will develop together your skippering skills. During the week you will prepare passage plans, you will navigate, you will organise a night sail and you will be in charge at times in order to gain experience as a skipper.
The tuition yachts are ready for accommodation by Sunday midday.
On day one, you will join the yacht and you will meet the rest of the crew and your instructor. On your arrival, you will be welcomed and briefed by your instructor about the basics regards the yacht and the surroundings. Once everyone has arrived we will have the chance to discuss about the course.
The course starts on Monday morning from our base in Lefkas and finishes on Friday afternoon back in our base. During your training you will sail a minimum distance of 100 N.M around the islands of the Ionian and you will visit the most interesting and beautiful places of the area.
On our daily routine, we will have lunch and swim stops in one of the most idylic bays of the Ionian islands and we will spend the night in a different destination at a time, where you will have the chance to explore the local culture and cuisine of Lefkada, Kefalonia and Ithaca.
The assessment is taking place on Saturday morning starting from our base in Lefkada and finishes by midday back in our base. Upon successful completion you will be provided with a signed ICC assessment form by your instructor.
The participants of the ICC preparation course are expected to have the required level of theory knowledge (Day Skipper theory level). This 6-day practical course includes lots of navigation, chart work and sailing and therefore there is not enough time for the instructor to teach theory from scratch. Your instructor though will coach and guide you in order to fill any gaps you have in theory and navigation.
Assumed
Knowledge
Navigation & practical sailing ability at Day Skipper level
Duration
5 days training + & Assessment on the last day
Minimum Recommended Age
16
Students – Instructor Ratio
5:1 maximum
Course
Syllabus

Preparation for sea
Deck work
Navigation
Pilotage
Meteorology
Rules of the road
Maintenance and repair work
Engines
Victualling
Emergency situations
Yacht handling under power
Yacht handling under sail
Passage making
Night cruising

Assessment Form can be downloaded
ICC Form
After the Course Experience

6 days on board
100 N.M
4 night hours
Ability to skipper a yacht in short passages

Certificate Granted
( upon successful completion )
ICC (International Certificate Of Competence)
Price for individuals *

Low season 990 €
Mid season 1090 €
High season 1190 €

Plus 50% for single cabin use

 
Price for private tuition **

BAVARIA 39/ FLUID 1/ 2008
DUFOUR 390 / FLUID 2 / 2021
BENETEAU FIRST 45F5 / FLUID 3 / 1996
BENETEAU OCEANIS 43 / FLUID 4 / 2010
BENETEAU OCEANIS 50 / DARWIN / 2011

FLUID 1 – Low 4.400€ /Mid 5.000€ /High 5.200€
FLUID 2 – Low 5.900€ /Mid 6.400€ /High 6.900€
FLUID 3 – Low 4.600€ /Mid 5.200€ /High 5.400€
FLUID 4 – Low 4.900€ /Mid 5.500€ /High 5.700€
DARWIN – Low 5.600€ /Mid 6.300€ /High 7.100€

 

Low season Before May 21st & After Oct 1st
Mid season May 21st to Jul 2nd & Sep 3rd to Oct 1st
High season July 2nd to Sep 3rd

 
INDIVIDUALS Join our tuition yacht together with other students and learn how to sail in the Ionian combing training with holidays. You will share the yacht with maximum another 4 students plus the instructor. Provisions for breakfast and lunch as well all the expenses of the yacht are included in the price. Accommodation may be shared and sallon berths may be used.

PRIVATE TUITION For small groups of friends and families who want to learn how to sail together the option of a private tuition is ideal as you won't share the yacht with someone else except your instructor. Charter a coded vessel from our fleet considering a cabin for your instructor and combine training with holidays. (fuel, provisions, the cost of the instructor's meals and mooring fees are not included in the price).
What is the ICC?
The ICC (International Certificate of Competence) is the minimum required qualification you need to have in order to charter a yacht in many European countries including Greece.
The full title of the ICC is International Certificate of Competence for operators of pleasure craft and it is a certificate which is intended to provide evidence of competence when requested by the authorities.
The ICC is the only sailing licence approved by the United Nations as a legitimate recreational sailing licence.
The ICC cannot be commercially endorsed and should never be used as evidence of competence for commercial activities.
Acceptance of the ICC
Most of the European countries accept the ICC as evidence of competence. For the full list and for any further information refer to the following link.
Who can get an ICC ?
The RYA CANNOT issue an ICC to nationals of the following countries: Austria, Belarus, Belgium, Bulgaria, Croatia, Czech Republic, Finland, France, Germany, Hungary, Iceland, Latvia, Lithuania, Luxembourg, Netherlands, Norway, Poland, Romania, Serbia, Slovakia, Switzerland, Ukraine
If you are a national of one of the countries above then you should be able to obtain an ICC from your own government provided you are able to meet their requirements for evidence of your competence to drive a pleasure craft.
The RYA CAN issue an ICC to nationals of the following countries: Albania, Andorra, Armenia, Azerbaijan, Bosnia and Herzegovina, Canada, Cyprus, Denmark, Estonia, Georgia, Greece, Israel, Italy, Kazakhstan, Kyrgyzstan, Liechtenstein, Malta, Moldova, Monaco, Montenegro, Portugal, Russian Federation, San Marino, Slovenia, Spain, Sweden, Tajikistan, The Former Yugoslav Republic of Macedonia, Turkey, Turkmenistan, United States of America, Uzbekistan
What's Included
Training by certified & experienced RYA instructors

Provisions for breakfast, snacks and lunch on board

Soft drinks

Fuel, gas, water

Bed linen & towels

Available course material

V.AT
What's not included
Cost of drinks & meals ashore

Cost of transfers and flights to / from our base
Highlights
Ideal for those who want to become skippers

Improve skills, gain experience, expand knowledge

Students – instructor ratio 5:1

Minimum of 100 N.M

Minimum of 6 Ionian destinations

4 hours night sail

Crystal clear water anchorages

Local cusine & culture

Combine training with holidays

You will need to bring a passport sized photo