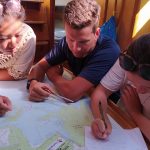 RYA / MCA Yachtmaster Offshore Theory & Preparation
August 13, 2020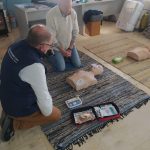 RYA First Aid Course
April 1, 2021
Description
[vc_row equal_height="yes"][vc_column width="1/2″][vc_column_text]
What is the ICC ?
The ICC ( International Certificate of Competence ) is the minimum required qualification you need to have in order to charter a yacht in many European countries including Greece.
The full title of the ICC is International Certificate of Competence for operators of pleasure craft and it is a certificate which is intended to provide evidence of competence when requested by the authorities.
The ICC is the only sailing licence approved by the United Nations as a legitimate recreational sailing licence.
The icc cannot be commerially endorsed and should bever be used as evidence of competence for commercial activities
Acceptance of the ICC
The most of the European countries accept the ICC as evidence of competence. For the full list and for any further information refer to the following link
[/vc_column_text][/vc_column][vc_column width="1/2″][vc_column_text][wptb id=2211][/vc_column_text][/vc_column][/vc_row][vc_row equal_height="yes"][vc_column][vc_column_text]
Who can get an ICC ?
The RYA CANNOT issue an ICC to nationals of the following countries : Austria, Belarus, Belgium, Bulgaria, Croatia, Czech Republic, Finland, France, Germany, Hungary, Iceland, Latvia, Lithouania, Luxemburg, Netherlands, Norway, Poland, Romania, Serbia, Slovakia, Switzerland, Ukraine
If you are a national of one of the countries above then you should be able to obtain an ICC from your own government provided you are able to meet their requirements for evidence of ypur competence to drive a pleasure craft.
The RYA CAN issue an ICC to nationals of the following countries : Albania, Andora, Armenia, Azerbaijan, Bosnia and Herzegovina, Canada, Cyprus, Denmark, Estonia, Georgia, Greece, Israel, Italy, Kazakhstan, Kyrgyzstan, Liechtenstein, Malta, Moldova, Monaco, Montenegro, Portugal, Russian Federation, San Marino, Slovenia, Spain, Sweden, Tajikistan, The Former Yugoslav Republic of Macedonia, Turkey, Turkmenistan, United States of America, Uzbekistan
The holders of the RYA Day Skipper Certificate can apply directly for an ICC without having to do any further assessments.
The ICC assessment
On your arrival you will be welcomed by one of our RYA qualified instructors who will take you to the training yacht of our school which is going to be used for the assessment. You will have enough time to familiarise yourself with the yacht and her equipment before the assessment. The assessor will be one of our RYA qualified instructors, he/she will brief you about the assessment and he/she will make sure that the hole procedure will be pleasant conducted in a friendly environment. The assessment usually starts with the theory aspects followed by the practical assessment. The minimum duration is 4 hours and is conducted at our base in Lygia.
Before booking your assessment
It is important to note that this ICC assessment is not a substitude for taking a theory and practical course. It is not a course and you will be assessed on your knowledge, understanding, and sailing skills. If your sailing and navigation skills do not reach the standard required to be issued an ICC your assessor will not be able to sign your ICC application form. If you are in any doubt at you should consider taking the Day Skipper theory and Day Skipper practical course instead.
An RYA centre is unable to physically present you with the ICC certificate. Upon succesful completion of the assessment the assessor will sign the ICC form, which then needs to be sent to the RYA which is the only governing body in the U.K that can issue the certificate. The turnaround is roughly 2 weeks. You are not legally qualified until you have the physical ICC on your person.[/vc_column_text][/vc_column][/vc_row][vc_row equal_height="yes" css=".vc_custom_1597152849294{margin-top: 5% !important;}"][vc_column width="1/2″][vc_column_text]
What's Included
Assessment conducted by RYA instructor

Use of a training yacht

Use of life jackets

Use of safety equipment
What's not included
Meals

Crew ( this is a private assessment, you will need to provide crew unless you arrange crew with us )
[/vc_column_text][/vc_column][vc_column width="1/2″][vc_single_image image="1467″ img_size="full" alignment="right" style="vc_box_circle_2″ css_animation="fadeInRight"][/vc_column][/vc_row][vc_row full_width="stretch_row_content_no_spaces" inverse="" css=".vc_custom_1596707908037{margin-top: 5% !important;}"][vc_column width="1/2″][vc_gmaps link="#E-8_JTNDaWZyYW1lJTIwc3JjJTNEJTIyaHR0cHMlM0ElMkYlMkZ3d3cuZ29vZ2xlLmNvbSUyRm1hcHMlMkZlbWJlZCUzRnBiJTNEJTIxMW0xOCUyMTFtMTIlMjExbTMlMjExZDIwOTE4LjMyMjEzOTExNzg1MiUyMTJkMjAuNzEyNjgxMzg2OTE4MjE2JTIxM2QzOC43OTc0NzIwNzY2NzE3NiUyMTJtMyUyMTFmMCUyMTJmMCUyMTNmMCUyMTNtMiUyMTFpMTAyNCUyMTJpNzY4JTIxNGYxMy4xJTIxM20zJTIxMW0yJTIxMXMweDEzNWMzNTdmMjRmNmI3MDUlMjUzQTB4N2M3MTc0MjM5ODBmNGU3YiUyMTJzTGlnaWElMjE1ZTAlMjEzbTIlMjExc2VuJTIxMnNnciUyMTR2MTU5NzEyOTY1Mzg0NSUyMTVtMiUyMTFzZW4lMjEyc2dyJTIyJTIwd2lkdGglM0QlMjI2MDAlMjIlMjBoZWlnaHQlM0QlMjI0NTAlMjIlMjBmcmFtZWJvcmRlciUzRCUyMjAlMjIlMjBzdHlsZSUzRCUyMmJvcmRlciUzQTAlM0IlMjIlMjBhbGxvd2Z1bGxzY3JlZW4lM0QlMjIlMjIlMjBhcmlhLWhpZGRlbiUzRCUyMmZhbHNlJTIyJTIwdGFiaW5kZXglM0QlMjIwJTIyJTNFJTNDJTJGaWZyYW1lJTNF"][/vc_column][vc_column width="1/2″ css=".vc_custom_1596707976492{padding-right: 5% !important;padding-left: 5% !important;}"][contact-form-7 id="1030″][/vc_column][/vc_row][vc_row][vc_column][/vc_column][/vc_row]