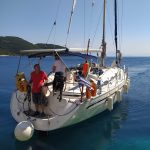 Own Yacht RYA Training
February 17, 2023
When it comes to RYA (Royal Yachting Association) training in Greece, the Ionian Sea stands out as a premier destination. With its breathtaking beauty, favorable weather conditions, and the expertise of Ionian Mode, based on the enchanting island of Lefkada (www.ionianmode.com), aspiring sailors can embark on a remarkable journey of learning and adventure. In this article, we will delve into the numerous benefits of undertaking the RYA Coastal Skipper Course in Greece, highlighting why it is a top choice for sailing enthusiasts.
Pristine Sailing Grounds: The Ionian Sea offers a pristine and captivating environment for sailing, boasting crystal-clear turquoise waters, secluded coves, and picturesque islands. From the tranquil anchorages of Meganisi to the vibrant atmosphere of Zakynthos, the Ionian archipelago provides an ideal backdrop for honing your sailing skills while surrounded by natural beauty.
Gentle Mediterranean Climate: The Mediterranean climate of the Ionian region provides an excellent setting for RYA training. With warm summers and mild winters, students can enjoy consistent weather conditions throughout the year. The calm winds and moderate sea state make it an ideal location for sailors of all levels to practice and gain confidence in their abilities.
Experienced RYA Instructors: Ionian Mode, situated on the island of Lefkada, boasts a team of highly skilled and experienced RYA instructors. These professionals provide comprehensive training, imparting their wealth of knowledge and expertise to students. With their guidance, learners can navigate the intricacies of coastal skippering, enhancing their understanding of navigation, seamanship, and yacht handling.
Diverse Sailing Challenges: Sailing in the Ionian offers a diverse range of challenges, ensuring that students are well-prepared for various scenarios on the open water. From navigating challenging passages to handling tidal streams and practicing night-time pilotage, the Ionian provides a rich training ground to develop and refine your sailing skills.
Cultural Exploration: In addition to its natural splendor, the Ionian region offers ample opportunities for cultural exploration. While undertaking the RYA Coastal Skipper Course, students can immerse themselves in the vibrant local culture, discover historical sites, and indulge in authentic Greek cuisine. Exploring charming coastal towns and experiencing the warmth of Greek hospitality add a unique dimension to the overall learning experience.
Conclusion: Undertaking the RYA Coastal Skipper Course in the Ionian with Ionian Mode unlocks a world of benefits for sailing enthusiasts. From the awe-inspiring beauty of the region to the expertise of experienced instructors, every aspect of training in the Ionian contributes to a rewarding and enriching journey. Aspiring sailors can sharpen their skills, gain confidence, and create lasting memories while exploring the wonders of Greece's Ionian Sea. Embark on this unforgettable adventure and witness the transformation that RYA training in the Ionian can bring to your sailing prowess.