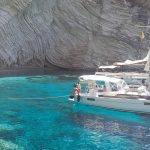 Learn to sail in Greece
February 27, 2021
A couple of decades ago, when I first started leisure and recreational sailing, I thought I had found a really nice way to spend my weekends with friends and a cool way to spend holidays around the Greek islands. With each passing year, I was getting more excited and interested in sailing and yachts. One day, I realized that this was not just a nice way to spend a few days on the water but a really nice way to spend my life. I really wanted to become a skipper, a great skipper, a skipper that guests could trust.
So, what does it take to get there? You have to be a good Navigator, a good trimmer, good at Boat Handling, First-Aider, VHF Operator, Meteorologist, Skillful Engineer and many more. However, when you think you've got most of it, that's when you realize there IS so much more to learn, so much more to experience, so much more to improve.
That's why we love sailing and that's why sailing is our passion and I am really glad to have fellow instructors on our team who believe and think the same. We keep practicing new learning and teaching techniques, we keep updating our knowledge and we never stop improving our skills.
The ionianMode RYA training centre is a newly established sailing school consisting of experienced RYA instructors who have worked and sailed together in the area of the Ionian for many years. Our aim in the near future is to expand the range of high standard courses for recreational and professional skippers and crew. Our aim is to share our passion with beginners and show them what they need to learn and practice, and what they can get from sailing. Our aim is to get the professional even better qualified by improving their skills and expanding their knowledge. Welcome on board … I hope you'll enjoy the ride as much as we do!
George Nounesis
RYA Yachtmaster Instructor / SRC Assessor