Beginner To Skipper
April 26, 2022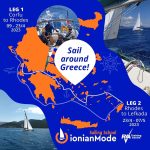 Mile Building Sailing Trip
December 30, 2022
Our Training Centre offers a variety of Sailing and Powerboat courses as well as theory and navigation courses. Until now there was no center offering specialized practical courses for Catamarans, but only for monohulls and power boats. We are proud to introduce our most-suitable courses "Learn to Sail a Catamaran". Ideal for Catamaran owners, future Catamaran owners, and Catamaran Charterers
Combine holidays with training and learn to sail a Catamaran together with family and friends on one of your fully equipped Catamarans. The duration of the practical course is 5 Days + 2 extra days. Our qualified RYA instructors will teach you Navigation, Power Handling, Sailing, and all the necessary skills you need to safely sail a catamaran. Further information is at the following link on our website https://ionianmode.com/rya-catamaran-training/
The maximun number of students on our private courses is 5. The offered courses are: RYA Competent Crew ( for beginners ) and RYA Day Skipper ( intermidiate) which can be combined. The combined courses are ideal for families.The more experienced can be trained as skippers and the beginners as crew.
Our private Catamaran Courses are ideal for families and friends who want to learn as a group. Our instructors have the experience to combine training with relaxing time in the Ionian. You will visit the most beautiful bays of the Ionian and you will have the chance to experience the local culture and cusine of Lefkas, Ithaca, Kefalonian and a few more islands. Your daily routine includes training, swimming in one of the idylic bays of the Ionian and of course Sailing. You will finish in a different port every day, therefore you will visit at least 6 Ionian Destinations
Generally learning how to sail should be really done on a monohull sailboat. The feeling of sailing, the amount a sailboat heels over depending on your actions/reefing, the thrill is so much different on a monohull.
On the other side a catamaran is spacier, doesn't heel, and has two engines.So even if the sailing principles of the course are the same, there are minor differences and if you are a catamaran owner or you are planning to charter a catamaran, you can gain catamaran-specific experience with those two courses.
Send us a quote and get ready for your Catamaran Training