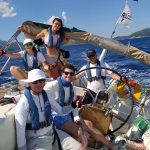 RYA Sailing Courses
January 12, 2023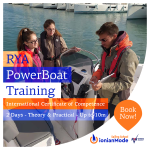 RYA Powerboat Course in Ionian
January 19, 2023
Looking for a unique and exciting vacation experience for your family? Why not consider a learn to sail family holidays with IonianMode, a recognized RYA training center located in the picturesque town of Sivota in Lefkada. Our sailing holidays provide families with the opportunity to bond while learning a new skill and exploring the beautiful islands of the Ionian Sea.
One of the unique aspects of our sailing holidays is that our tuition yachts sail together as a flotilla. This allows families to not only learn to sail but also to meet other like-minded families and make new friends. The flotilla aspect of our holidays adds an extra dimension of fun and socialization to the experience.
IonianMode offers a variety of RYA courses for families, including the RYA Competent Crew course, the RYA Day Skipper course, and a combination of both. Our courses have a small student-to-instructor ratio of 5:1, ensuring that each member of your family receives personalized attention and support.
During your 5-day course and 7 days on board, you'll have the opportunity to visit some of the most beautiful and diverse destinations in the Ionian Sea, including Lefkas, Ithaca, Kefalonia, Meganisi, Kalamos, and Kastos. Each day will bring new adventures and opportunities to experience the unique culture and stunning landscapes of these islands.
Our learn to sail family holidays are designed for all levels of experience, from complete beginners to more advanced sailors. And for those who prefer a more personalized experience, we also offer private tuition.
In terms of accommodation, meals, and other amenities, families can expect comfortable and well-maintained yachts, delicious Mediterranean cuisine, and all the necessary equipment and safety gear.
Booking your sailing holiday with IonianMode is easy. Simply visit our website or contact us directly to learn more about our courses and to make your reservation. Contact us at https://ionianmode.com/contacts/
Don't just take a vacation, make a lifetime of memories with your family with IonianMode sailing holidays!