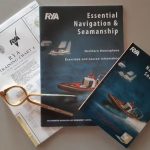 RYA Online Courses with the support of ionianMode
April 13, 2021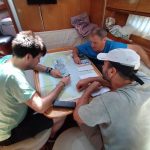 Autumn RYA Sailing Courses in Greece
October 15, 2021
Learning to sail in an area like the Ionian seems the ideal way to combine training with holidays. Nevertheless attending an RYA course means that you have chosen to learn to sail following the RYA syllabus and the RYA high standards of training. The course, especially for the Day skippers and the Coastal Skippers, is intense as you will have 5 days to learn new techniques, develop skippering skills, and transfer the theory of navigation into practice. On the other hand that doesn't mean that you will not get some fun time. Our instructors have deep knowledge of the area of the Ionian and the local weather patterns so during the day they will make sure that the yacht will be anchored in one of the idyllic bays of the Ionian for lunch stop daily, giving you the chance to swim in the crystal clear waters of the Ionian. It is expected also to spend the night in different ports every day so you will visit at least 6 destinations of the Ionian. Every day's destination is a decision that your instructor will take every morning depending on the weather conditions and the progress of the course. In any case, you will have time to taste the local cuisine and explore the local culture and tradition of places nearby Lefkada, like Kefalonia, Ithaca, Meganisi, Kalamos, Kastos, and Paxoi.
The weather in the Ionian can be described as ideal for recreational sailors and training as the nature of the land and the formation of the mountains offer us a daily variety of wind conditions. During the season the morning light breeze gives us a great opportunity for practicing yacht handling techniques and refreshing aspects of the theory. We also have the opportunity to have a lunch stop and swim in one of the idyllic bays of the area waiting for the wind to pick up. Later usually at about 14.00- 15.00 the onshore breeze picks up from a north-westerly direction and the time for sailing has come. Usually, the wind dies with the sunset time, everything is calm and it's time to enjoy dinner at one of the local tavernas.
Sailing in the Ionian and Learning to sail in this area can be an unforgetable experience for everyone.