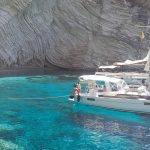 Learn to sail in Greece
February 27, 2021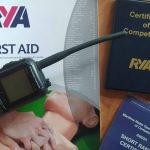 Glad to announce RYA First Aid Course in Greece!
March 15, 2021
The RYA Competent Crew course is the most popular course for beginners. This course is designed to introduce the complete beginner to cruising. You will learn about personal safety, seamanship, and helmanship to the level required to be a useful member of the crew of a cruising yacht.
The duration of the course is five days which you will spend on one of our tuition yachts, sailing around the islands of the Ionian.
The syllabus of the course: Sea terms and parts of a boat her rigging and sails, Sail handling, Ropework, Safety on board, Personal safety equipment, Man Over Board, Emergency equipment, Manners and customs, Rules of the road, Tender usage, Meteorology, Helmanship, and sailing, General duties
All of our instructors are qualified RYA instructors with local knowledge. They have deep knowledge of the area and the local weather patterns. We plan our training weeks in such a way in order to provide high standard training giving the same time to the students, time to relax and to enjoy the islands of the Ionian. Every day we stop for lunch and swim in a different bay and every day we spend the night in a different port, where you can explore the local cuisine and culture.
Attending your RYA Competent Crew course in the Ionian is one of the best ways to learn sailing since you can combine training with holidays in one of the most beautiful areas of Greece.
Familiarize yourself with yachts and sailing by participating in an RYA Competent Crew course in Greece with ionianMode. Combine training with holidays, learn to sail, and visit some of the most beautiful Greek islands.
If you are a solo sailor take a course for individuals and share the tuition yacht with other solo beginner sailors. If you are a family or friend book a private tuition course and customize your training week.
Our plan for 2021 is to start courses by the end of May. Contact us for more details. We are happy to answer your questions