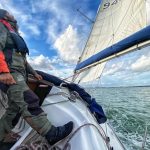 Yachtmaster Preparation in Greece
November 5, 2021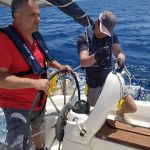 own boat tuition
December 15, 2021
The Ionian is a great place for many reasons to start sailing so it is pretty common even without having the experience or certification to purchase a yacht here in Lefkas.
It is our job then to do all necessary training to reach skipper level and enjoy sailing with safety and all knowledge required. Luke Chadwick is such a case (and a good writer too)!
Luke's thoughts of RYA Day Skipper course with our school:
I'm sitting and reflecting after the final day of my RYA Day Skipper. I wanted to share a little about my experience in the hope that it will be useful to others thinking about taking the same journey.
It's not every day that you get to tick off one of your life goals, but I guess today is one of those days. I've wanted to learn to sail for 12 years and now I'm certified.
It's both the end of a journey and the start of an even longer one, as I continue to expand my skills.
Doing the RYA Day Skipper with Ionian Mode has been an incredible experience.
Due to personal circumstances, I started looking for an opening quite late in the season. As you do when first looking, I emailed a selection of providers outlining my needs and also my willingness to participate in either a group or private training.
Almost immediately Nikos from Ionian Mode got back to me letting me know that the next available booking for a group training was 1 month away, but that they had a yacht and trainer available for a private training the following week.
I accepted this and Nikos proceeded to arrange payment and coordinate the session.
On Sunday I went to meet the trainer and begin. Officially the course is 5 days (Monday to Friday), but starting a little earlier allowed my instructor Alan to start to get a feel for my capabilities.
As I expected they were rusty. What little time I had on the water was 6 months earlier. That hard-won early training had atrophied.
Undaunted, Alan assessed first my strengths and weaknesses and began to put together a plan for the week. Covering not just the required syllabus, but also brushing up my crewing and boat handling skills.
If you plan on sailing in the Mediterranean then doing your courses in the Ionian Sea makes a lot of sense. Not only is it a fairly forgiving piece of water, but there are also vast differences in some of the skills required.
Parking stern-to with an anchor drop or lazy line is essential for being able to cruise around the Mediterranean. They're part of the syllabus in that you generally need to be able to park the boat, but would not be covered in the UK (I think) because there you mostly park alongside.
Day 1 saw us travelling from Lefkas down the Lefkas Channel around to Varko Bay for some Anchoring Practice and onwards to Spartakhori on Meganisi for the night. Along the way, we practised both items for my RYA Day Skipper and also brushing up my rusty skills.
Before leaving I was asked to do a passage plan and pilotage plans. They were, in hindsight flawed, but they set the basis for further training on the navigation aspects of the Day Skipper Practical course.
They also served as an introduction to the difference between the Day Skipper Theory course that has perfect information in a made-up world, and the realities of information that goes out of date more quickly than the Pilot books can be published.
Day 2 started to refine my ability to produce meaningful plans the utilized as many features of the yacht to help keep the yacht safe. Using tools like the Chart Plotter and Navionics to begin complementing the necessary but cumbersome manual processes and charts.
We travelled from Spartakhori to Kalamos and I started to learn how to park stern-to with an anchor. Along the way practising a myriad of other skills.
Day 3 was divided into 2 parts. A light half-day, thank goodness because the first two days had been exhausting, and then a night sail. The first half of the day led us to Kastos a small port not that far from Kalamos. Kastos taught me a number of things. Just how many yachts can be jammed into a small port, and also the how to check for an anchor wrap — before leaving for our night sail, I swam across the harbour to check that the yacht opposite us hadn't laid its anchor over the top of ours.
RYA divides its skills into 'Knowledge of', 'Understands', and 'Can'. The night sail fitted into the 'Knowledge of', meaning it wasn't assessment, so much as exposure.
It was a good experience as well, because it didn't match my expectations. I had expected, for some unknown reason, for it to be dark with nothing but the navigation lights to guide you. In reality, it was troublesome to pick out the navigation lights because of all the other light pollution.
In the theory course, everything has navigation lights on. In practice, several tiny fishing vessels zipped by without any lights on, and we had a close call with an unmarked fishing buoy.
Day 4 saw us head down the coast of Lefkada to Sivota. We were quite far into the things that needed to be assessed by this point, and really starting to work on some of my weaknesses, otherwise known as stern-to parking. We got the sails up as often as possible and then navigated into Sivota.
Sivota was one of my favourite stops of the week. A boomerang-shaped bay on the south coast of Lefkada. it was bustling with people. Unlike our two previous stops, the pontoon we stayed at had lazy lines. Every port should have lazy lines.
Sivota was alive with Tavernas and shops. After dinner, I did some of the final on paper exercises and then called it a night.
Day 5 was almost a free day. A little more practice on stern-to parking and then we did a long line in a small bay. Longlining is when you anchor in a bay and then swim with a rope to attach to a rock or tree. Once you have two lines on you attach the third line.
It needs to be done fairly quickly, which, as the swimmer was challenging – attaching and then detaching the lines. Finally, it was back to Lefkas Marina to finish the course.
Reflecting on the week, I've learned more than I thought possible. Toward the end of the week, I was definitely in information overload. Doing the training one-on-one with the instructor was great, but it also left me nowhere to hide.
The experience of training with Ionian Mode was amazing. I'm looking forward to doing further training as my skills continue to develop. Doing your RYA Day Skipper (or Competent Crew) in the Mediterranean is a great way to have an adventure holiday, and come away with skills that you can use afterwards.